MEET KEKO GROUP
The KEKO Group was established at 1992 with our company headquarter and production facilities located in the heritage city of Malaysia, also known as the Pearl of The Orient, Penang. The KEKO Group comprises KEKO Marketing, KEKO Manufacturing and CKL Marketing.
The first business structure started in 1969, which is a family business grocery shop (known as CKL Marketing) that served local market that time. For over 4 decades of experience in this industry, CKL Marketing has further developed its business model globally to serve overseas market and developed an E-Commerce system to improve the purchasing process for our clients.
As the business expanded, KEKO Group was formed. As soon as the set up, we commenced the production of glass bottle-packed traditional tea in local market at 1993. The premium quality and exquisite taste had make KEKO become one of the dominant players in bottle-packed beverage industry in a short time. With the tremendous effort from Research and Development team, KEKO has successfully launched more than 30 products in the market.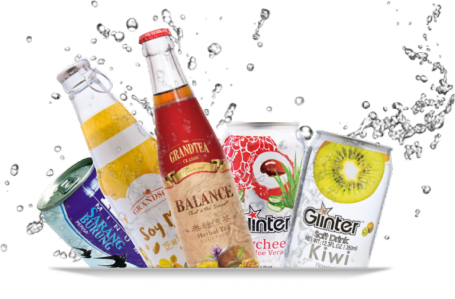 One of the biggest milestones achieved by KEKO including the launching of new brand product – GLINTER in the November of 2004. GLINTER product emphasized on its trendy physical outlook and mesmerizing taste, which targeted young generations who are more trend conscious and looking for premium experience. Therefore, GLINTER aims to penetrate through the existing global carbonated beverage and mineral water market.
As the company developed, KEKO has also innovated existing products to meet the market requirement. Our glass bottle packaging herbal tea series have been rebranded into our new product line as Grand Tea, which available in different flavours yet still maintaining its premium quality. In the meantime, we have also launched other drinking products including Grand Soy, which emphasized at the luxurious month-feel of our exclusive soy milk. KEKO is also venturing into the new market of launching the healthy snack, our Jayer Tamarind Candy, which not only offering you a taste bite but also rich in nutrients.
Today, KEKO has established the business organization both locally and internationally. The company has now successfully expanded to more than 40 countries and also registered trademark at over 70 countries. The major overseas market consists of Asia, Europe, Middle East, Africa, Southern America, etc.
Contact us now to get our latest product newsletter and best promotion deal!

VISION:
Provide people with joy and healthy eating habit.

MISSION:
To provide the world with the best products and services, at the same time maximize the benefits of our stakeholder with more value.

KEKO'S CORE VALUES:
Accountability | Empathy | Be Proactive | Embrace Changes | Trust